Children and adolescents may present a variety of congenital or acquired pathologies of the musculoskeletal system that warrant further medical attention. Although some of them might resolve spontaneously, early orthopedic treatment can be crucial in order to avoid late deformities. The rapid growth in children may often be beneficial in achieving a positive clinical outcome.
However, besides timely detection of pediatric orthopedic disorders, concrete treatment planning is essential for many of these disorders. It is therefore my pleasure to offer the recommended orthopedic examination (week 4-7) and hip sonography (week 1 and 6-8) for your newborn child.
In case those conservative treatment methods fail, surgery may sometimes be required to help your child. In these cases our competent staff of pediatric orthopedic surgeons, anesthesiologists and specially trained nurses and therapists at the Orthopedic Hospital Vienna-Speising will take care of your child before and after surgery.
As a general pediatric orthopedic surgeon with emphasis on hand and upper limb surgery I will be able to provide orthopedic care amongst others for the following disorders: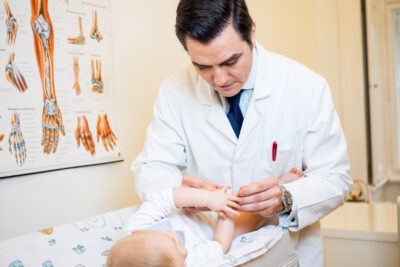 Please bring all previous x-rays or lab records with you!