Sebastian Farr, M.D.
Associate Professor of Orthopedic Surgery, Board Certified Hand Surgeon
Orthopedic Surgeon and Traumatologist
Praxisklinik am Burggarten
Goethegasse 3/3D
1010 Vienna
Phone: +43 650 990 54 46
Email: farr@praxisklinik-burggarten.com
Office hours:
Tuesday 9 am-2 pm,
Wednesday 2-8 pm by appointment only
Private patients only. No public health insurance accepted, but bills may be partly reimbursed at your insurance.
Please be aware that in the case of no show-up or cancellation of the appointment on the same day the full fee will be charged.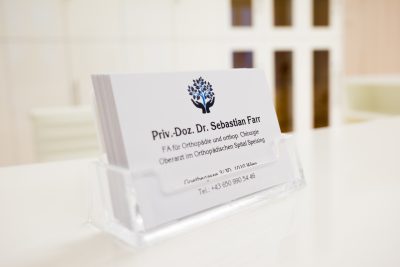 Appointments
To schedule an appointment with Dr. Farr please
dial +43 650 990 54 46 (Monday, Wednesday, 2 pm-6 pm and Tuesday, Friday 9 am-1 pm)
request an appointment via email (we will get in touch with you by phone as soon as possible)
For all other questions please contact us via farr@praxisklinik-burggarten.com.